Find new pathways, answers and solutions through outdoor coaching!
"Coaching in the forest is without distractions and you can focus on the problem at hand. And that is usually missing in everyday life. With my second coaching session, I regained the confidence in my abilities and I know what the next right step is. I am very grateful for that.", Sabine from Leonberg
Coaching in the open space of nature offers many advantages compared to coaching in a seminar room.
Space & Context
In nature, you leave behind the space closely associated with your issue. You gain new perspectives, the view on your issue changes and new possibilities reveal themselves.
Calm & Mindfulness
In nature we become calmer and the stress we feel is reduced. This has been shown in many studies on what Japanese people call "Shinrin-Yoku" ("forest bathing"). In the forest, our senses are activated and mindfulness increases. This way many people can connect more easily with their inner selves in the outside of nature.
"I only went out for a walk and finally concluded to stay out till sundown, for going out, I found, was really going in.", John Muir (1838-1914), Scottish-American environmental philosopher
Movement & Health
The light movement in nature brings perceptions and thoughts into flow and facilitates finding solutions. In addition, the light movement during outdoor coaching promotes your health.
Inspiration & Creativity
Nature is a source of inspiration. Be it the golden yellow leaf that floats down in front of us, the call of a bird, the breeze we feel on our cheek or the spicy smell of pine resin that accompanies us. They act as impulses and can guide the way to solutions.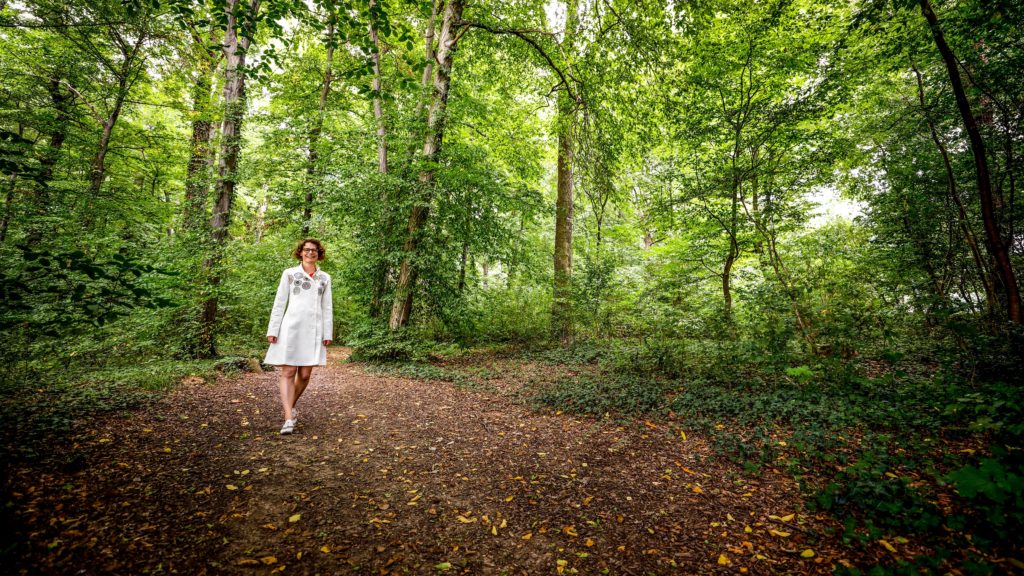 As a coach, I am a mediator between you and the natural space. I guide you through the coaching session with my knowledge of processes and methods. Nature has a supporting effect. It serves as a source of inspiration and a space for reflection.
With Outdoor Coaching you connect the positive effects of being in nature with personal and professional development.
Frequently asked questions
For which issues is outdoor coaching suitable?
In principle, outdoor coaching is suitable for all issues that trouble us. It is also excellent for reflecting your life (or the year) in the rhythm of the seasons and for consciously shaping the way ahead.
Isn't outdoor coaching too dependent on the weather?
Except for storms, thunderstorms and hail, outdoor coaching can take place in any weather. Please dress as appropriately as possible for the weather so that you feel comfortable. Let yourself be enchanted by nature, which shows its special side in every weather condition!
How fit or athletic do I have to be?
Fitness is not a prerequisite for outdoor coaching. It is rather contemplative and slow. You should be able to walk up to three kilometres in one and a half hours on natural forest paths.
I live quite far from Stuttgart or Korntal. How can I still take advantage of the offer?
I am happy to offer outdoor coaching by phone. You go to your place in nature at the arranged time and I go to mine. We connect by phone and you receive your coaching in your natural environment.
Do you have other or further questions?
Please contact me for a free initial conversation.
And then?
Step into your coaching space nature!
Do you want to read more about my outdoor coaching? Here you can find an article, which was published in the web newspaper Stuttgart.